SME INSTRUMENT IMPACT REPORT PUBLISHED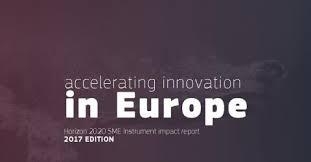 Du 31/05/2017 au 30/09/2017

Based on cumulative data from 2014 to 2016, the SME Instrument 2017 impact report provides first insights into the growth trends of selected SME beneficiaries, their profiles as well as the key features of the programme.
In its first three years some 31 000 applications were received, while just under 2 500 small companies were successful in obtaining funding for a total spend of €882 million.
In 2016, the SME Instrument celebrated its companies' first successes: first IPOs, major contract signatures, significant private investments, prestigious awards and many market breakthroughs. The impact analysis reveals some consistent facts, such as
Shorter time-to-investment: The SME Instrument funding shortens the average time for companies to get the next investment from 32 to 9 months.
Higher funding rounds: With the SME Instrument, companies raise higher investment rounds (€ 4.3 million on average) than before (€ 2.8 million).
Stronger leverage effect: Only 3 years after the start of SME Instrument, each euro invested generated one euro of private investment. This amount is likely to be higher in the future as the leverage effect will reveal its full potential only after several years.
The summary highlights are available at https://ec.europa.eu/easme/sites/easme-site/files/2016_smei_report_updated.pdf
while the full report can be found at https://ec.europa.eu/easme/sites/easme-site/files/accelerating_innovation_in_europe_horizon_2020_smei_impact_report.pdf