SME INSTRUMENT: NEW RULES AND PERSPECTIVES FOR 2018-2020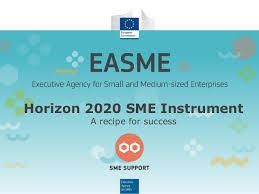 Du 06/11/2017 au 08/01/2018

The SME Instrument funding scheme, which has raised huge interest among innovative SMEs across Europe, will undergo significant changes in the 2018-2020 period. Compared with previous work programmes, the scheme will benefit from a larger budget over the
The SME Instrument funding scheme, which has raised huge interest among innovative SMEs across Europe, will undergo significant changes in the 2018-2020 period. Compared with previous work programmes, the scheme will benefit from a larger budget over the next 3-year period without any topic constraints and a new evaluation process for Phase 2 proposals (an interview for the best applicants).
The highlights are as follows:
Fully bottom-up, no predefined topics, so innovative projects that cut across sectors/technologies become eligible for support
Single budget line, maintaining budgetary contributions from Societal
challenges and LEIT
Larger pool of evaluators with relevant technological/scientific expertise as well as financial/commercial backgrounds
Evaluation criteria in Phase 2 revised to better target the scaling up of SMEs with the greatest potential for breakthrough, market-creating innovation (business capacity, international growth ambition)
Interviews for successful Phase 2 applicants
Coaching for SMEs (available across SMEi, FTI and FET-open)
Mentoring introduced
Monitoring of thematic coverage
As far as the SME Instrument Phase 2 evaluation criteria are concerned, the breakdown is as follows:
Impact (50%): covering demand, users, market, scale up, commercial
strategy, international dimension
Excellence (25%): involving high risk and potential, steps to market, beyond state-of-the-art, feasibility
Implementation (25%): covering the team, resources, implementation plan and time frame
The interview step will concentrate on the commercial strategy, feasibility and quality of the team.