THE HISTORY OF INNOVATION IN 50 AGREEMENTS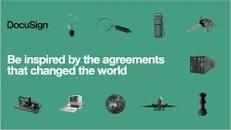 Du 13/11/2019 au 31/12/2019

Throughout history, innovation has been forged in agreement – between inventors and industrialists, between governments and scientists, and between employers and employees.
The agreement is the point at which ideas collide and intellectual capital starts to flow. The agreement is the start of something special.
Where would we be without Tim Berners-Lee's famous agreement to make his World Wide Web technology freely available to anyone that wanted it? What about Henry Ford's agreement with employees that kept his innovative factory running? Or Nikola Tesla's agreement to strike a new engine licensing deal with Westinghouse back in the 19th century?
Of course, not all agreements lead to success. Indeed, many fail, and the cost can be devastating. History is littered with examples that have robbed projects of potential, people of success, and companies of future prosperity.
Who can forget Blockbuster's failed agreement with Netflix? Blockbuster was a global retail giant, with 9,000 stores worldwide. Netflix was a promising start-up, and when its executives flew to Blockbuster's Texas HQ with a $50m partnership proposal, they were laughed out of the room. A decade later, Blockbuster filed for bankruptcy. And today, Netflix is worth more than $115bn.
Published by DocuSign, the History of Innovation in 50 Agreements is a catalogue of huge hits and near misses, of partnership and rejection. It is a testament to the fundamental importance of the agreement in almost all facets of life. And it teaches us a little more about what we can do today to ensure that we all can thrive tomorrow.
You can download this inspirational book of innovation stories through time at https://discover.docusign.co.uk/history-of-innovation