2017 EUROPEAN INNOVATION SCOREBOARD RESULTS OUT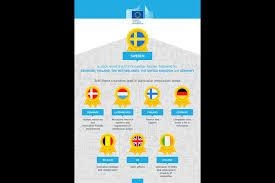 Du 11/07/2017 au 30/09/2017

The new scoreboard reveals that EU innovation performance continues to improve, especially in areas such as human resources, an innovation-friendly environment, own-resource investments, and attractive research systems.
The 2017 European Innovation Scoreboard, published this month, presents a revised measurement framework to bring it into line with evolving policy priorities and to help improve the quality and timeliness of the indicators, to capture new and emerging phenomena, such as digitisation and entrepreneurship, and to provide a toolbox with contextual data which can be used to analyse structural differences between Member States. Rankings are therefore not directly comparable with previous editions.
Sweden remains the EU innovation leader, followed by Denmark, Finland, the Netherlands, the UK, and Germany. Austria, Belgium, France, Ireland, Luxembourg, and Slovenia are in the category "Strong Innovators" with performance above or close to that of the EU average.
At the global level, the EU is less innovative than Australia, Canada, Japan, South Korea, and the United States. Performance differences with Canada and the United States have become narrower compared to 2010, but those with Japan and South Korea have increased. Japan has improved its performance more than three times as much as the EU, and South Korea has improved its performance more than four times as much as the EU. The EU maintains a performance lead over China, but this lead is decreasing rapidly with China having improved more than seven times faster than the EU. The EU's performance lead over Brazil, India, Russia, and South Africa is still considerable.
All the different reports and documents, including individual country reports, can be found at http://ec.europa.eu/growth/industry/innovation/facts-figures/scoreboards_en
En savoir plus