Strategic Road-mapping Workshop
22 Feb 2011
Location : Brussels
---
"Efficiency of European Innovation programmes & recommendations for future implementation"
The workshop is aimed mainly at "end users" of the 4 main EU Innovation programmes. It has two purposes:
1) To report and receive feedback on the experience and satisfaction of end users (including intermediaries, research organisations, companies and public bodies) and suggestions for improved efficiencies.
2) To analyse future scenarios for innovation in Europe bearing in mind the content of the Innovation Union declaration and potential drivers / events that may impact the regional and global economy.
The T-PLAN road mapping methodology will be used in a format that is expected to last 2-3 hours with a break for lunch. A representative cross section of the European Innovation Community, including policy makers, public innovation agencies, KTOs of universities and public research organisations as well as private innovation support intermediaries are invited.
Participation is free of charge, but places are limited to 25 and we would be grateful if you could confirm your attendance as soon as possible via the online registration form.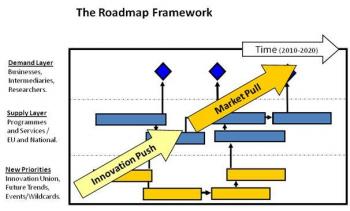 Documents
Programme
---
Registration
---
To read more you must log in to your member's account.